Written By: Heather Snow ~ 3/2/2021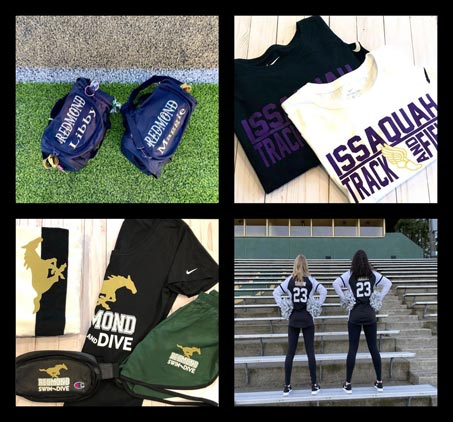 You hear Teams and think Microsoft Teams, but no we are not talking about a software product! :) We are talking about athletics. We in Washington State are finally getting back to school sports! I can't tell you how excited this makes us and all the kids. Not just because we make AMAZING products for teams, but because the kids need the social time with peers and support that comes with their team. So what do we offer sports teams?
This is where it all began for us, so teams have a special place in our hearts. We absolutely love the variety and creativity this brings! Baseball, Basketball, Cheer - YES Cheer is a sport! Cross Country Track, Dance - YES Dance is also a sport! These kids are serious athletes. Football, Soccer, Softball, Swim & Dive, Track & Field, Volleyball, and Wrestling. All of these sports teams we support with spirit wear options that can also be used as a way to fundraise. We set up a store on our website, collect all the orders and payments, and organize the orders so they are ready for pick up and you don't have to do anything except spread the word. Some of our products we love to use for spirit wear are hoodies, caps & beanies, t-shirts, and sweats. We are adding a few new items to our list this year such as: blankets, yard signs to celebrate your athletes, and team buttons!
We don't just support the spirit side of teams. We know high school sports, especially football and basketball have designated school spirit nights. That means for cheer and dance teams they need uniform items that go along with these themed nights. Dance and Cheer bring with them a lot of uniform pieces and costuming for competition. Let us help you with your team gear. We have some great bag and backpack options, as well as team coats, beanies, and hoodies. We have your solutions and at affordable prices!
NEW this year we are offering team uniforms for Baseball, Cross Country Track, Soccer, Softball, Volleyball, and Track & Field. And the all-important LETTERMAN JACKETS! All of them with your school colors and logos. We are very excited to bring a full line of these products for teams. We have loaded up our Teams Page with all of these additions for you to check out. There are so many options that we had to pick and choose which ones to put up, so keep in mind there are more options as well!
Last but not least, we love supporting seniors. We will gladly donate senior sashes to your athletes at no cost to you. These can be ordered in our shop under Athletics here.
We offer FREE consultations. Schedule a time for us to meet with your coaches and booster clubs to help you find the perfect spirit wear and uniform options for your sports teams. At this time we are only offering appointments via Zoom. You can book a consultation appointment on our website by going here.
We look forward to helping you with all your team needs!
Heather