Written By: Heather Snow ~ 4/14/2021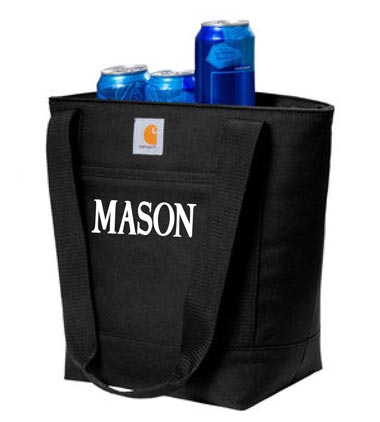 Do you have that one cupboard in your kitchen that is full of unused plastic water bottles? I think we all do! They hardly get used these days as most people are moving to the stainless steel bottles that keep things cold or hot for much longer than a plastic bottle could ever hope to. As we move into the warmer days of spring and summer, we tend to use more beverage vessels that can go outside and not break, but also keep our beverage at the right temperature. Then there's the coolers that keep such beverages that we fill those vessels with cool and travel well. There's nothing worse than a warm drink on a hot day! Sit back and let us tell you all about our options that can be customized for any occasion. Even everyday use and not wear out after 1 season!
Let's begin with soft sided coolers. These handy guys help keep beverages hot and cold, and can be used at any time of the year, not just summer! We have curated a selection of coolers in all different sizes and prices. All have splendid options within and all of them will do a fine job for any task required. We are highlighting the meaty selections today, but there are other brands and options in the shop. The Carhartt® line of soft sided coolers is seriously amazeballs! These are great for anyone in the family. They're tuff and worth every penny. We carry the Tote 18 Can Cooler - aka the Mom/Picnic/Beach Day Cooler. The Vertical 12 Can Cooler great for the ballpark, camping, or day trips. My favorite the Lunch 6 can cooler that reminds me of my Dad's old metal lunch box that he had a huge thermos in. These lunch coolers are great as they have a top compartment so your sandwiches and chips don't get crushed. All of the Carhartt coolers are made of strong 600D polyester, Rain Defender® durable water repellent, with seam-sealed to prevent ice from leaking as it melts, fully insulated main compartments, and strong carrying handles.
We have carefully curated a drinkware collection you are going to love! There are so many awesome options to choose from it's hard to keep it minimal. We are going to highlight 2 of our favorites for you today.
Stainless Steel Stemless Wine Tumbler: while this is meant for wine, not everyone is a wine drinker. This makes a great beverage vessel for sipping your favorite beverage on the patio soaking up some sun and taking in all the spring flowers. These are great for anyone, so don't think it's just for the wine-rs! Add some personalization by adding a monogram or name.
20 oz Stainless Steel Skinny Tumbler: yes another stainless item. Why? Because they keep items hot for 12 hours or cold for 24 hours! You can't beat the quality that goes into these guys and they are more sustainable than anything plastic. This cute skinny tall tumbler is your new best friend you didn't know you needed. Not only is it tall, but slender and comes in some beautiful colors. It would be great for anyone, can be used daily, and adding that personalization takes it over the top!
Check out all the ways you can customize these and more drinkware options in our shop. These all make great gifts, but it's also fun to treat yourself to something every now and then (you have my permission to go purchase for yourself). We hope that by sharing a few of our favorites it will inspire you to check out our drinkware and coolers collections!