Written By: Heather Snow ~ 4/21/2021
Now that spring is here weddings are near! With most weddings postponed last year due to the Covid-19 pandemic, this year is going to be a busy season.
As you begin or are already deep in planning your big day, it is customary to thank those in your wedding party with a gift of gratitude for their support and help putting this magical day together. We have curated items that are sure to please everyone, have more than one purpose, and in a wide range of prices. We are here to help make this part of the process fun for you and those you wish to gift your gratitude. All our items can be personalized with monograms (initials), first names, last names, wedding party titles (i.e., bridesmaid), or a combination of these. Are you ready?
Budgets. This is the first place you need to start. Without knowing what you can afford to spend per person, you should not go any further. Determine what you and your partner plan to spend per person. Keep in mind you will most likely give these all at the same time, so you do not want to leave anyone out. Traditionally you would give to all the following: maid/matron/man of honor, best man/woman, bridesmaids, groomsman, flower girls and page boys, ring bearer, ushers, and of course all parents. If you are having a religious wedding do not forget these people; officiant (if you are not making a financial donation), candle lighters, hattabin, chuppah carriers, koumbaro/koumbara. If you are not following a traditional wedding, then anyone you consider in your wedding party would be a recipient. Now that you have a budget in place and a list of who will be recipients you can begin putting together some amazing gratitude gifts.
We present to you some ideas on wedding party gifts of gratitude we have put together for anyone in your wedding party.
Drink Ware Items: versatile for everyone and a low-cost item.
Our collection of drink ware options keeps growing as amazing new products come out. We bring you a selection of high-quality stainless-steel coffee mugs, coke bottle style water bottles, stemless wine tumblers, travel tumblers and mugs, beer steins, and coming soon mason jar mugs!
Make them super cool with some personalization using colored, sparkly, rainbow, or electric vinyl for all the people in your bridal party.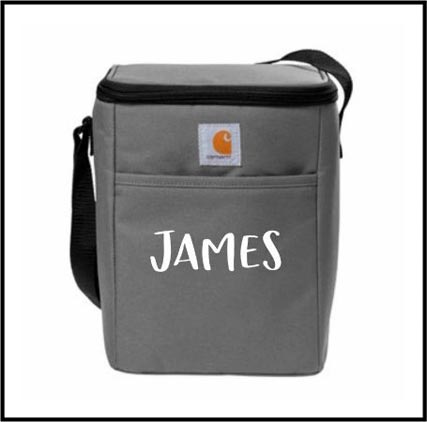 Bags and Coolers: so many options for everyone on your list and a wide range of prices.
Take them up a notch and customize them with some bling by adding rhinestones. Hello bridesmaids!
How about a Carhartt insulated 12 can cooler for drinks and snacks, or a Carhartt lunch box. All of these can be used for the day of the wedding and years afterwards. Add monograms for a custom touch.
Joggers and/or T-shirts: we have a variety of joggers and of course t-shirts!
These will have everyone stylishly waiting for hair and makeup on the big day, and then they
They can use them for lounge wear after the wedding.
Add their wedding party title to the front and their last name to the back of the t-shirts and the wedding party title or last name to the joggers making these one of a kind.
Dickies brand Aprons: we love these! They are so versatile and who does not need an apron?
Aprons are not just for cooking. But cooking, grilling, and barbequing (smokers are barbeques) are great ways to use them.
People who craft any number of things would enjoy an apron with all the pockets these have! Add a monogram to one of the pockets for personalization. Pair this with one of our drink ware items and you have a lovely thoughtful gift.
Ring Dishes: great for anyone adult or child and budget friendly.
White round ceramic dishes meant to be monogramed.
Can be used as more than a ring dish.
While we are not all getting married, we will be attending weddings. Here are some excellent ideas for the newlyweds we can put together for you but could also be used as wedding party gifts of gratitude.
Exquisite matching bath robes monogrammed for them to enjoy each morning while sipping coffee or tea while on their honeymoon.
Coordinating joggers and tshirts perfect for wearing on the airplane heading off on their honeymoon.
One of our Carhartt coolers, a blanket, and two matching drink ware items all monogrammed for the happy couple making this a great tailgating or picnic gift.
Matching drink ware items and cabana striped beach towels, and one of our bags or coolers would make a great beach day set. Add monogramming to all the items to make it personalized.
All of these items can be added to one of our gift box options making the presentation of the gifts of gratitude amazing and personal. We hope we have helped you envision what gifts of gratitude we can put together for you to show your appreciation to your wedding party and create some lasting memories.
Cheers,
Heather